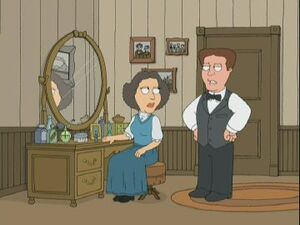 Harry Houdini (born Erik Weisz; March 24, 1874 – October 31, 1926) was a Hungarian-born American magician and escapologist, stunt performer, actor and film producer, as well as a skeptic and investigator of spiritualists.
He appears in "Prick Up Your Ears" when he and his wife, Bess, are preparing to go to their friends, the Petersons, to play bridge. To get out of the date, he walks into the closet and disappears. Bess knows she can find him hiding in a nearby trunk.
Ad blocker interference detected!
Wikia is a free-to-use site that makes money from advertising. We have a modified experience for viewers using ad blockers

Wikia is not accessible if you've made further modifications. Remove the custom ad blocker rule(s) and the page will load as expected.