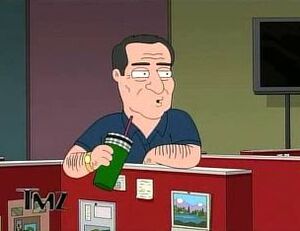 Harvey Robert Levin (born September 2, 1950) is an American television producer, lawyer, legal analyst and a celebrity reporter. He is the founder of celebrity gossip website TMZ.com.
He appears on TMZ on TV in "Peter-assment", in an episode that features Peter Griffin's footage of Richard Dreyfuss. He voiced himself.
He was scheduled to appear at the Comedy Central Roast of Charlie Sheen with roastmaster Seth MacFarlane, but did not.[1]