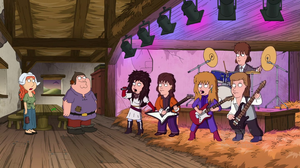 Heart is an American rock band which first found success in Canada and later in the United States and worldwide. The band has had three primary lineups, with the constant center of the group since 1974 being sisters lead singer Ann Wilson and guitarist Nancy Wilson.
Heart appears singing songs about beans for Jack's support in "Grimm Job" with Nancy and Ann providing their own voices as Jack's wife nags him not to buy magic beans.
Ad blocker interference detected!
Wikia is a free-to-use site that makes money from advertising. We have a modified experience for viewers using ad blockers

Wikia is not accessible if you've made further modifications. Remove the custom ad blocker rule(s) and the page will load as expected.