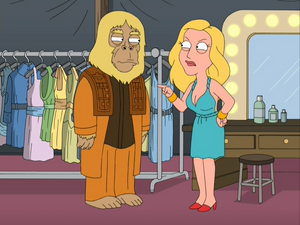 Heidi Blair Montag (born September 15 1986) is an American singer and television personality. Montag is known for appearing on the MTV reality series, The Hills. In May 2007 she and Spencer Pratt announced their engagement. During The Hills season finale in December 2007, Pratt and Spencer broke off their engagement. During a broadcast of Ryan Seacrest's radio show, Spencer said that he was madly in love with Montag and trying to win her back. On November 20, 2008, Montag and Spencer had a marriage ceremony in Mexico. Montag and Pratt married a second time on April 25, 2009 in Pasadena, California. In July 2010, Montag filed for divorce, after fifteen months of marriage to Pratt. However, the couple later called off the divorce.
She is shown arguing with then-husband Pratt, portrayed by Planet of the Apes character Dr. Zaius in her Hills dressing room in "We Love You, Conrad".
She is voiced by Kate Todd.