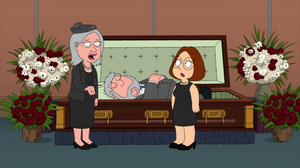 Helen Dugan is the widow who's husband was prepared by Meg for his funeral at the Quahog Funeral Home in "Save the Clam", only to have Chris lose the body after he used it to get into "R" rated movies and it fell apart after taking it swimming. After Chris is forced to pose as Mr. Dugan, Helen informs Meg that they donated his face for a transplant, resulting in Chris losing his face in the process.
Ad blocker interference detected!
Wikia is a free-to-use site that makes money from advertising. We have a modified experience for viewers using ad blockers

Wikia is not accessible if you've made further modifications. Remove the custom ad blocker rule(s) and the page will load as expected.