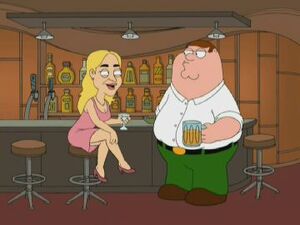 Helen Elizabeth Hunt (born June 15, 1963) is an American actress, film director, and screenwriter. She starred in the sitcom, Mad About You, for seven years, before being cast in the romantic comedy, As Good As It Gets, for which she won the Academy Award for Best Actress. Some of her other Hollywood credits include Twister, Cast Away, What Women Want and Pay It Forward. She made her directorial debut in 2008 with Then She Found Me.
Peter Griffin turns her down for sex in "McStroke".
Tom Tucker calls her a lesbian in Griffin's spelling bee-clinching sentence in "Tales of a Third Grade Nothing".
Andy Dufresne (Peter Griffin) compares having women's privates carved out of stone to having sex with Helen Hunt in the Shawshank Redemption segment in "Three Kings".