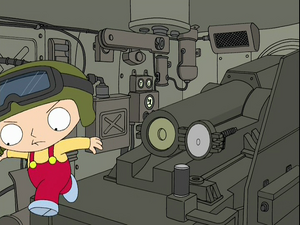 While preparing to take out Superstore USA with their tank, Stewie is shown loading the shell into the breech of the tank's gun. However he fails to close the breech, thus making it impossible to fire the gun, which Brian nevertheless does in the next shot, flattening the superstore.
In "A Hero Sits Next Door", Brian tells a woman sitting in front of him that he does not have sweat glands plus dogs can't sweat yet during the power outage and freak heatwave he can clearly be seen sweating through his fur.
When Chris, Lois and Peter are sitting on the couch and Meg comes into the scene to complain that Joe has impounded the tank, Chris' eyes completely disappear briefly as he appears to blink.
When the ping pong balls covering Peter fall from his body, they bounce once before simply vanishing.
Joe impounded the tank because Meg ran him over with it. However when Stewie and Brian go to destroy Superstore USA, it's parked outside of the house.
A poster at the start misspells the commonly used product of the show Pawtucket Patriot ale. The poster states "PAWTUCKET PATRTOT ALE."
Ad blocker interference detected!
Wikia is a free-to-use site that makes money from advertising. We have a modified experience for viewers using ad blockers

Wikia is not accessible if you've made further modifications. Remove the custom ad blocker rule(s) and the page will load as expected.