The disco song that plays during the scene where Peter, Cleveland, Quagmire, and Joe are rollerskating is "A Fifth of Beethoven" by Walter Murphy, who, not so coincidentally, is also a composer for Family Guy.
Jennifer Love Hewitt appears in Ghost Whisperer with enormous breasts.
The salesman says that Meg should buy a 1996 sedan, but Peter insists on buying an army tank.
When Meg states that she is the only one in her family with a job, she says this before Chris mentions that he lost his paperboy job to the Superstore. Therefore she knew ahead of time and Chris was informing everyone else.
"United Skates of America," the roller rink where Peter leaves Meg, is a real chain with 17 locations across the United States including one in Rumford, Rhode Island.
Peter buys the tank from Wilkins Hyundai and Subaru, the dealership that he was previously a spokesman at in "Patriot Games". The General Lee is one of the cars available at the dealership.
Outside the theater where Peter performs a musical version of Red Dawn, there is a large sign with the poster art for the musical Wicked.
While working at Superstore USA, one of Meg's duties is to give Sloth, the deformed strongman from the 1985 film, The Goonies, a Baby Ruth candy bar. He then states that he is "already in a committed relationship," presumably with Chunk.
Peter fires the tank at Cleveland's house exposing him in his bathtub before it falls to the ground. This gag became a recurring staple and was also used in The Cleveland Show.
Paddy Tanniger, the caddy manager, from "Fore Father" is run over in this episode by the tank and is presumed dead, a fact which is supported by a statement made by Danny Smith on a DVD commentary.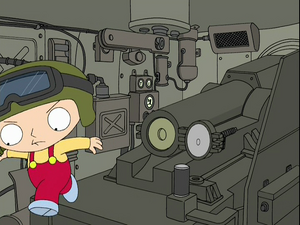 While preparing to take out Superstore USA with their tank, Stewie is shown loading the shell into the breech of the tank's gun. However he fails to close the breech, thus making it impossible to fire the gun, which Brian nevertheless does in the next shot, flattening the superstore.
In "A Hero Sits Next Door", Brian tells a woman sitting in front of him that he does not have sweat glands plus dogs can't sweat yet during the power outage and freak heatwave he can clearly be seen sweating through his fur.
A poster at the start misspells the commonly used product of the show Pawtucket Patriot ale. The poster states "PAWTUCKET PATRTOT ALE."
According to the DVD commentary, during its initial airing in Canada, the dialog from the cutaway gag involving the man watching the Madagascar DVD while driving was unedited. It has been edited in subsequent airings.