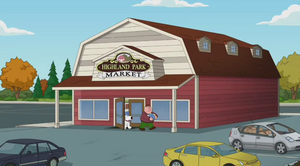 The Highland Park Market is where Peter and Brian locate a turkey for Thanksgiving dinner in "Turkey Guys" after traveling sixty miles from home, securing the last bird to be had.
When Peter drives Brian's car into a nearby pond, they return to the market where another clerk gives them a ride to the bus station.
Ad blocker interference detected!
Wikia is a free-to-use site that makes money from advertising. We have a modified experience for viewers using ad blockers

Wikia is not accessible if you've made further modifications. Remove the custom ad blocker rule(s) and the page will load as expected.