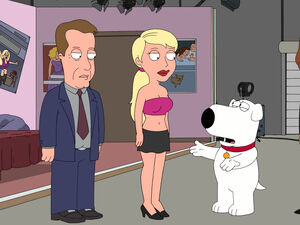 Hillary is the teenage blond James Woods picks out to play his daughter when he changes Brian's drama What I Learned on Jefferson Street into a comedy named Class Holes! in "Brian Griffin's House of Payne". Her character was intended to be a toddler until the script's major reworking. She is the reason Woods would ask for the CBS legal team after she slept with him.
Hillary is voiced by Danielle Panabaker.
Ad blocker interference detected!
Wikia is a free-to-use site that makes money from advertising. We have a modified experience for viewers using ad blockers

Wikia is not accessible if you've made further modifications. Remove the custom ad blocker rule(s) and the page will load as expected.