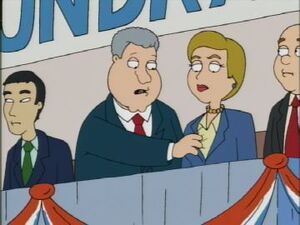 Hillary Diane Rodham Clinton (born October 26, 1947) was the 67th United States Secretary of State, serving in the administration of President Barack Obama. She was a United States Senator for New York from 2001 to 2009. As the wife of the 42nd President of the United States, Bill Clinton, she was the First Lady of the United States from 1993 to 2001. In the 2008 election, Clinton was a leading candidate for the Democratic presidential nomination.
In "Da Boom", Hillary Clinton watches along with husband Bill while a nuclear warhead goes off outside the Capitol. Bill obviously ambivalent about the prospect, realizes the end of the world is near and decides to grab Hillary's breast as the last thing he ever does.
In "Bill and Peter's Bogus Journey", husband Bill referenced her at least once.
Her picture is held by Peter Griffin for the cover of What I Would Do Sexually to Hillary Clinton in "Peterotica".