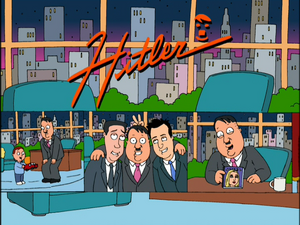 Hitler is a fictional talk show that would be hosted by former Chancellor of Germany, Adolf Hitler. It would tape in Los Angeles, California.
The concept was imagined by Death and Peter Griffin in "Death Is a Bitch" when the former describes what a world without Death would be like, which in effect keeps Hitler alive. A possible episode of the program is seen where Christian Slater is one of Hitler's guests. Jewel, David Schwimmer, and Matthew Perry would have also been guests. Adolf seems to be a big fan of Slater's.
Ad blocker interference detected!
Wikia is a free-to-use site that makes money from advertising. We have a modified experience for viewers using ad blockers

Wikia is not accessible if you've made further modifications. Remove the custom ad blocker rule(s) and the page will load as expected.