Ad blocker interference detected!
Wikia is a free-to-use site that makes money from advertising. We have a modified experience for viewers using ad blockers

Wikia is not accessible if you've made further modifications. Remove the custom ad blocker rule(s) and the page will load as expected.
Holy Crap
Peter kidnaps the Pope in order to make his father proud of him.

Season: 2 Episode: 2
Total Episode Count: 9
Prod. no.: 1ACX11
First Aired: September 30, 1999

Guest Starring: Charles Durning, Florence Stanley
Featuring: Peter Griffin, Francis Griffin, The Pope
Also Appearing: Brian, Lois, Meg, Chris, Stewie, Thelma Griffin, Mr. Weed, Tom Tucker, Diane Simmons, Vern, Abraham Lincoln, Adolf Hitler, Al Capone, John Wilkes Booth, Superman, Scarecrow, Tin Man, Kristy McNichol, Jesus Christ, Isaac Washington, Pawtucket Red Sox, Bobby Hammill, Mr. Hammill, Jimmy Lawson, Mr. Lawson, Mrs. Lipstein, Luke, Nine
Director: Neil Affleck

Writers
:
Danny Smith
Storyboarders
:
Christine Blum
,
Eric Fredrickson
,
Tricia Garcia
,
Matt Sullivan
Plot
: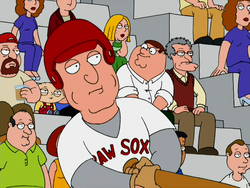 Peter's devout Catholic father Francis is forced to retire from his job at the mill. Anxious for a show of genuine fatherly emotion, Peter brings his dad to live with the family, much to Lois' chagrin, since Francis hates her because she's a Protestant, and immediately problems start.
He yells at Chris for masturbating in the bathroom when he is merely defecating, and makes Meg feel guilty for holding hands with a neighbor boy. When Francis is hired at the toy factory where Peter works, he displays excellent proficiency leading to his being made foreman, upon which he immediately fires Peter.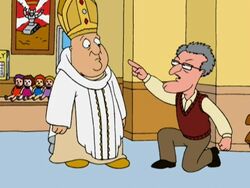 Peter decides to "kidnap" the Pope, who is on a visit to Rhode Island, with a view to having the Holy Father convince Francis that Peter is a good son.
The Pope does indeed consider Peter a very good son, with the patience of Job after His Excellency is himself chewed out by Francis, and so Father and son at last reconcile. Still needing a job, workaholic Francis is hired as heavy handed security on the Pope's tour of the United States.