Homer Simpson
Talk

0
4,740pages on
this wiki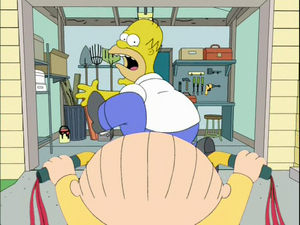 Homer Jay Simpson is the fictitious main protagonist of the animated television series The Simpsons and father of the eponymous family. His catchphrase, the annoyed grunt "D'oh!", has been included in The New Oxford Dictionary of English since 1998 and the Oxford English Dictionary since 2001.
In the opening sequence in "PTV", Homer is being chased into his garage a la the opening sequence to The Simpsons, with Homer being flattened by Stewie's tricycle. Peter then opens the garage door, notices Simpson unconscious, and asks Stewie who the man is.
Homer is also heard from in "Movin' Out (Brian's Song)". He walks in on his wife Marge cheating on him with Glenn Quagmire. Panicked, Quagmire pulls out a gun, killing him. His kids, Bart, Lisa, and Maggie, witness the murder, and thus, are killed as well.
Stewie also uses Homers catchphrase "D'oh!" in a Butterfingers commercial parody in "Mother Tucker".
He briefly appears in "The Juice Is Loose", and was voiced by impressionist Jeff Bergman. He was the Simpson whose presence Mayor Adam West did not want in Quahog.
Peter uses Homer's catch phrase "D'oh!" when Meg is introduced as his daughter in "Big Man on Hippocampus".
In Something, Something, Something, Dark Side, the Darth Vader head that Luke Skywalker, played by Chris Griffin decapitates was originally going to be Simpson's, but was replaced with his own.
In "Cool Hand Peter", the jury of the trial of Peter, Joe, Quagmire and Cleveland consisted of Homer, Marge, Lisa, Bart, and Maggie Simpson, Krusty the Clown, Comic Book Guy, Groundskeeper Willie, Edna Krabappel, Ned Flanders, Otto Mann, Moe Szyslak, and Mr. Burns. Peter is at first relieved to find that it's a jury of their peers but Joe points out that they don't see it that way.
In "Ratings Guy", Homer rushes to report having broken television only to have Peter brag that they beat them to it. Here, he is voiced by his regular voice actor Dan Castellaneta.
External Links