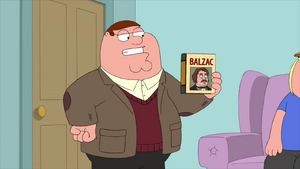 Honoré de Balzac (20 May 1799 – 18 August 1850) was a French novelist and playwright. His best known work is La Comédie humaine, which focuses on French life in the years after the 1815 fall of Napoleon Bonaparte.
Peter tries to teach the kids about cultured words that sound dirty in "The Most Interesting Man in the World", holding up a novel by Balzac as one of his examples.
Ad blocker interference detected!
Wikia is a free-to-use site that makes money from advertising. We have a modified experience for viewers using ad blockers

Wikia is not accessible if you've made further modifications. Remove the custom ad blocker rule(s) and the page will load as expected.