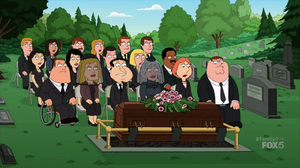 Peter tries to replace Quagmire by telling an off-color joke about the family, before trying out his "Who else but Quagmire?" gag with his own name.
A cutaway about Quagmire's grandmother's funeral shows both his mother Crystal and sister, Brenda Quagmire. A previously mentioned brother, Gary, is still unidentified.
This episode bucks a trend of depicting strained ties in Peter and Lois' marriage such as in "Dr. C & The Women". Here, it is clear that they both love each other and show none of the snark that had become common in their dynamic.
Ad blocker interference detected!
Wikia is a free-to-use site that makes money from advertising. We have a modified experience for viewers using ad blockers

Wikia is not accessible if you've made further modifications. Remove the custom ad blocker rule(s) and the page will load as expected.