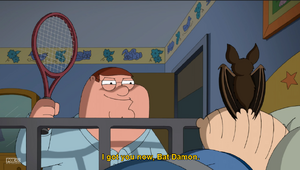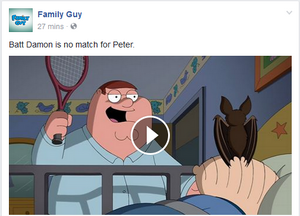 This episode pokes fun at the anti-vaccination movement and the disproven link between vaccines and Autism.
This is David A. Goodman's first credited episode since 2012.
Official closed captioning lists the name of the bat as "Bat Damon." The Family Guy Facebook page gives the name as "Batt Damon."
Peter and Lois heed the advice of "Doctor" Jenny McCarthy. She is an actress and co-host of ABC's The View, and is noted for being one of the most vocal proponents of the anti-vaccination movement.[1]
Meg brings up a callback to Peter being born in Mexico in "Padre de Familia", but Peter cuts her off claiming that no one remembers that.