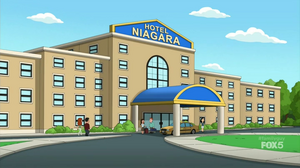 The Hotel Niagara is where Joe and the guys stay when he takes them on a trip with him to Niagara Falls, unaware that he plans to commit suicide after becoming depressed in "#JOLO" about being handicapped.
After two failed attempts to thrown himself into the falls, the guys are forced to restrain him by tying him to a hotel bell cart. They consider taking him back to Quahog to get help, but decide to go siteseeing while at the falls first.
Ad blocker interference detected!
Wikia is a free-to-use site that makes money from advertising. We have a modified experience for viewers using ad blockers

Wikia is not accessible if you've made further modifications. Remove the custom ad blocker rule(s) and the page will load as expected.