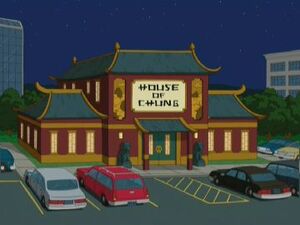 The House of Chung is a Quahog, Rhode Island restaurant specializing in Chinese cuisine. James Woods ate here every day he went out for dinner before his death. Peter and Brian Griffin track him down here via credit card bills in "Back to the Woods".
Ad blocker interference detected!
Wikia is a free-to-use site that makes money from advertising. We have a modified experience for viewers using ad blockers

Wikia is not accessible if you've made further modifications. Remove the custom ad blocker rule(s) and the page will load as expected.