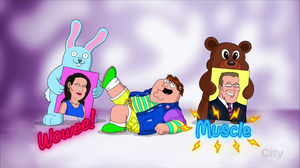 Howard Matthew Moses "Howie" Long (born January 6, 1960) is an American former National Football League defensive end and actor, inducted into the Pro Football Hall of Fame in 2000, and employed as a studio analyst for Fox Sports Networks' NFL coverage.
During the song "Come On Home" in "Candy Quahog Marshmallow!", Peter, Cleveland and Joe try to talk Quagmire out of staying in South Korea when he decides he wishes to stay there with his former lover, Sujin. During the song, they point out that the United States has both Ricki Lake and Howie Long.
Ad blocker interference detected!
Wikia is a free-to-use site that makes money from advertising. We have a modified experience for viewers using ad blockers

Wikia is not accessible if you've made further modifications. Remove the custom ad blocker rule(s) and the page will load as expected.