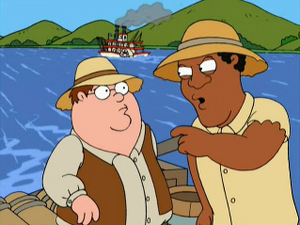 Huck Griffin is Peter Griffin's great grandfather who appeared in "I Am Peter, Hear Me Roar". He traveled with a friend named N-Word Jim, who once became upset with Huck when Huck called Jim a certain name which was Jim's people's word, informing Huck that he had no right using the word. Jim and Huck reconciled when Huck said Jim's name right when he asked for an oar.
He is voiced by Seth MacFarlane.
Ad blocker interference detected!
Wikia is a free-to-use site that makes money from advertising. We have a modified experience for viewers using ad blockers

Wikia is not accessible if you've made further modifications. Remove the custom ad blocker rule(s) and the page will load as expected.