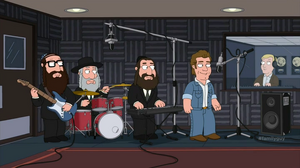 Hugh Anthony Cregg III (born July 5, 1950), better known by his professional name of Huey Lewis, is an American musician, songwriter, and actor, best know for being the frontman for his band, Huey Lewis and the News.
When Meg misses Tom Tucker's report in "The Kiss Seen Around the World", she gasps that she is missing the news. Mistaken, Peter notes that they all miss Huey Lewis and his band, but that he needs time to create.
In "Brian's a Bad Father", Quagmire demands that Peter give him his Huey Lewis CD back. Peter responds that he wants a new drug, and Quagmire acknowledges that at least he has been listening to the album.
After the guys find a kid that stole Stewie's tricycle in "Encyclopedia Griffin", Peter notes that they go together better than Huey Lewis and the Jews. In a cutaway, Huey starts to sing "The Power of Love" until the Jewish band members promptly announce they are breaking up after Huey sings about not needing money
Ad blocker interference detected!
Wikia is a free-to-use site that makes money from advertising. We have a modified experience for viewers using ad blockers

Wikia is not accessible if you've made further modifications. Remove the custom ad blocker rule(s) and the page will load as expected.