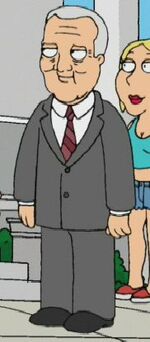 Hugh Malcolm Downs (born February 14, 1921) is a retired American broadcaster, television host, producer, and author. He was most famous for hosting stints on Today, 20/20 and the game show Concentration.
Downs voiced himself in "The Kiss Seen Around the World" subduing a criminal during a hostage crisis involving Meg Griffin and Neil Goldman. The Mass Media Murderer previously took him hostage. He has special powers. Downs also provided his voice for a Family Guy commercial on Adult Swim in 2006.
Ad blocker interference detected!
Wikia is a free-to-use site that makes money from advertising. We have a modified experience for viewers using ad blockers

Wikia is not accessible if you've made further modifications. Remove the custom ad blocker rule(s) and the page will load as expected.