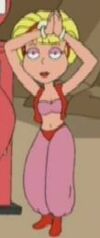 I Dream of Jeannie is a 1960s American sitcom with a fantasy premise. The show starred Barbara Eden as a 2000-year-old female genie, and Larry Hagman as an astronaut who becomes her master, with whom she falls in love and eventually marries.
Jeannie is seen in a dream by Peter Griffin during "I Never Met the Dead Man". She is also seen in "Untitled Griffin Family History", creating modern species, as, according to a Church, that's how evolution happened.
Ad blocker interference detected!
Wikia is a free-to-use site that makes money from advertising. We have a modified experience for viewers using ad blockers

Wikia is not accessible if you've made further modifications. Remove the custom ad blocker rule(s) and the page will load as expected.