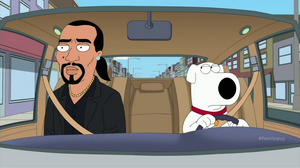 Tracy Lauren Marrow (born February 16, 1958), better known by his stage name Ice-T, is an American rapper and actor.
In "Brian the Closer", Brian tries to convince a reluctant Quagmire to invest in a condo. Quagmire admits he never saw himself as an investor, leads Brian to claiming that he never saw himself becoming friends with Ice-T. In a cutaway, Brian inquires what is on Ice-T's mind, and he admits it is black hair in a ponytail.
When discussing a big dumpster, Quagmire remembers that Ice-T's wife will be coming to Quagfest in "Fighting Irish".