The title was originally registered and promoted under the name of "Into Harmony's Way".[1]
Peter was previously part of musical groups in "Don't Make Me Over", "Deep Throats" and "Barely Legal".
With Brian's absence due to his death in the previous episode, Vinny replaces him in the Theme Song. Brian is never mentioned in the episode but appears in a photo in the Griffin house.

As of this episode, every major character on the show has been absent for at least one episode.

This episode has more songs than any other to date.
This episode marks the first time Quagmire is seen playing a guitar.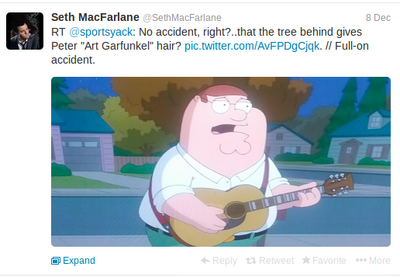 Mort compares Peter and Quagmire's singing to Mandy Patinkin.
Peter previously sent Lois on a scavenger hunt to distract her while he played golf on their anniversary in "Death Lives".
"Homeward Bound" by Paul Simon and Art Garfunkel plays as Peter and Quagmire go on tour.
"Comfortably Numb" by Pink Floyd plays as Peter gets a flu shot.
Peter wrote "Train on the Water, Boat on a Track" before actually learning the difference between the two.
Lois is surprised to find out that Peter and Quagmire can sing. Lois and Peter previously had performed together in "Deep Throats".
Despite Peter being gone for two months until Thanksgiving night, when he returns, the outside weather is mild enough for him and the family to be in their traditional attire.
During the flu shot scene, Peter is shown with a left-handed guitar in his room. Throughout the episode, he is shown playing a right-handed guitar.
Peter purports that the white doctor giving him the flu shot is Michael Jackson's physician. Dr. Conrad Murray, the real doctor, is an African-American.