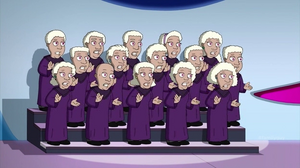 The title is based on the quote "in harm's way."
Mort's record label, Mort Town Records, is a parody of the label Motown Records.
The DVD commentary notes that the "The All Five-Foot-One Black Albino Choir" is intended as a reference to groups such as the Mormon Tabernacle Choir and the Harlem Boys Choir.