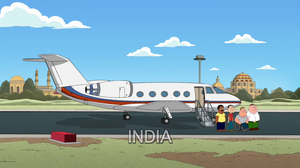 India is a country in South Asia. It is the seventh-largest country by area, the second-most populous country with over 1.2 billion people, and the most populous democracy in the world.
Peter and the guys travel to India in search of God to confront him over the continual losses by the New England Patriots in "3 Acts of God". In India, they decide that conditions are not fitting for God and return home.
Brian travels to India with Stewie in tow after after falling for a tech support representative's voice in "Road to India".
Ad blocker interference detected!
Wikia is a free-to-use site that makes money from advertising. We have a modified experience for viewers using ad blockers

Wikia is not accessible if you've made further modifications. Remove the custom ad blocker rule(s) and the page will load as expected.