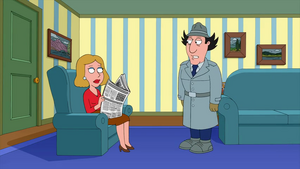 Inspector Gadget is a fictional police detective and protagonist of the cartoon and film series of the same name with various bionic gadgets built into his body. Gadget's nemesis is Dr. Claw, the leader of an evil organization, known as "M.A.D."
Inspector Gadget appears in "Bigfat" where he talks to a woman and admits he's fathering a son with a different woman.
Gadget is voiced by Seth MacFarlane.
Ad blocker interference detected!
Wikia is a free-to-use site that makes money from advertising. We have a modified experience for viewers using ad blockers

Wikia is not accessible if you've made further modifications. Remove the custom ad blocker rule(s) and the page will load as expected.