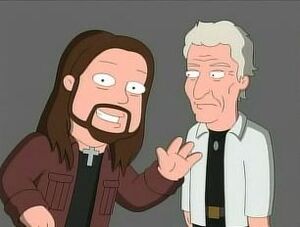 Ioan Gruffudd (born 6 October 1973) is a Welsh actor. He trained at the Royal Academy of Dramatic Art and rose to prominence for his role in Titanic. He has also played roles in such other films as Amazing Grace, Black Hawk Down, W., Fantastic Four and its sequel Rise of The Silver Surfer, King Arthur, Mariah Mundi and the Midas Box and Ringer.
He voices Asia's lead singer John Payne in "The Splendid Source" and played the narrator of the ethnic National Geographic documentary in "Seahorse Seashell Party" and Prince Charles in "Family Guy Viewer Mail No. 2".
Ad blocker interference detected!
Wikia is a free-to-use site that makes money from advertising. We have a modified experience for viewers using ad blockers

Wikia is not accessible if you've made further modifications. Remove the custom ad blocker rule(s) and the page will load as expected.