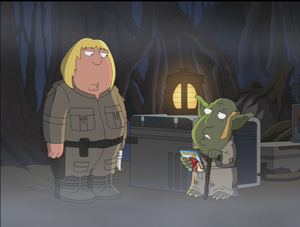 Iron Man is a fictional superhero who appears in comic books published by Marvel Comics. The character debuted in Tales of Suspense #39 (March 1963), and was created by writer-editor Stan Lee, scripter Larry Lieber, and artists Don Heck and Jack Kirby. Born Anthony Edward Stark, and usually called Tony, he is an industrialist playboy and ingenious engineer who suffers a severe heart injury during a kidnapping in which his captors attempt to force him to build a weapon of mass destruction. He instead creates a powered suit of armor to save his life and escape captivity. He later uses the suit to protect the world as Iron Man.
In Something, Something, Something, Dark Side, a DVD cover of the 2008 film starring Robert Downey, Jr. in the role, is seen held by Yoda, played by Carl. He mentions that this was one of the films in which director Jon Favreau made a cameo role for himself.
When Peter sorts his Cutaway gags for the week in "3 Acts of God", one of the cutaway gags gathered in the living room is an Iron Man Chef, a combination of Iron Man and Iron Chef.
In "Our Idiot Brian", Stewie accuses Brian of being as useless as the Black Widow of The Avengers when he prefers to stay dumb. Black Widow is questioned by Captain America, Iron Man, Thor, The Incredible Hulk and Hawkeye as to her powers, which she only offers up as kicking. While the rest of the team jokes at her expense, Hulk tries to stay out of it, but is accused of just trying to be nice.
External Links