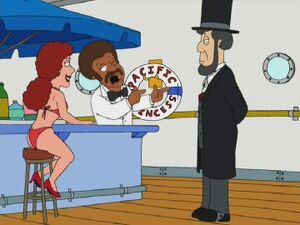 Isaac Washington was the bartender on the ship, Pacific Princess, in the TV series, The Love Boat. The character is portrayed by actor Ted Lange. The character was usually known for his upbeat personality and offered advice to those in need.
In "Holy Crap", a cutaway parodies about the biblical story of Abraham and Isaac, with Abraham Lincoln and Washington in their respective places.
Ad blocker interference detected!
Wikia is a free-to-use site that makes money from advertising. We have a modified experience for viewers using ad blockers

Wikia is not accessible if you've made further modifications. Remove the custom ad blocker rule(s) and the page will load as expected.