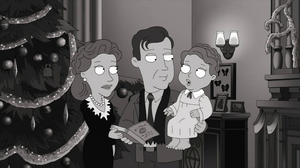 It's a Wonderful Life is a 1946 American Christmas drama film produced and directed by Frank Capra, based on the short story "The Greatest Gift", written by Philip Van Doren Stern in 1939, and privately published by the author in 1945.
Faced with financial and personal ruin, George Bailey has so many problems that he is thinking about ending it all and on Christmas. As the angels discuss George, the film shows his life in flashbacks. As George is about to jump from a bridge, he ends up rescuing his guardian angel, Clarence. Clarence then shows George what his town would have looked like if it hadn't been for all his good deeds over the years.
When George Bailey decides he wants to live, Lois Griffin, in her rampage through Quahog, pushes him off a bridge in "A Very Special Family Guy Freakin' Christmas".
The ending to It's a Wonderful Life is parodied in "The Giggity Wife". Instead of saying angels get wings, George's daughter refers to Quagmire vowing to sleep with a man when a bell rings. Bailey notes that they will have to pull her out of her school for teaching such things.
Ad blocker interference detected!
Wikia is a free-to-use site that makes money from advertising. We have a modified experience for viewers using ad blockers

Wikia is not accessible if you've made further modifications. Remove the custom ad blocker rule(s) and the page will load as expected.