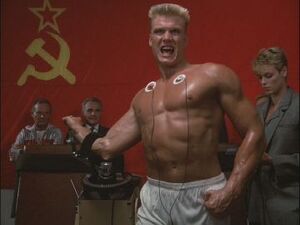 Ivan Drago is a fictional character in the film Rocky IV (1985). He is portrayed by Dolph Lundgren. The character and his catchphrases have gone on to inspire multiple mentions in popular culture, including in the episode, "Brian Goes Back to College".
Drago appears in live-action footage in Something, Something, Something, Dark Side when Luke Skywalker, played by Chris Griffin trains on Dagobah.
Ad blocker interference detected!
Wikia is a free-to-use site that makes money from advertising. We have a modified experience for viewers using ad blockers

Wikia is not accessible if you've made further modifications. Remove the custom ad blocker rule(s) and the page will load as expected.