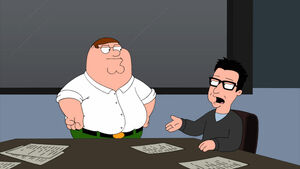 Jeffrey Jacob "J.J." Abrams (born June 27, 1966), is an American filmmaker, famous for directing works as Mission: Impossible III, Star Trek, Super 8 and Star Wars: The Force Awakens. His television work goes to Fringe, Alias and Lost, which he won a Primetime Emmy Award.
Abrams voices himself in "Ratings Guy" when Peter enlists him to create a show to save television. Abrams' show consists of a time-traveling alien that befriends a koala.
Ad blocker interference detected!
Wikia is a free-to-use site that makes money from advertising. We have a modified experience for viewers using ad blockers

Wikia is not accessible if you've made further modifications. Remove the custom ad blocker rule(s) and the page will load as expected.