The episode is officially spelled with a hashtag as #JOLO. Due to Wikia's formatting, we cannot use the # in the title.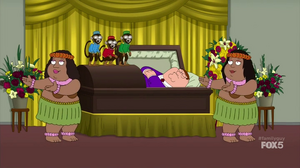 Cleveland mentions that Donna's "fat aunt" is visiting. The only aunt shown originally in The Cleveland Show was her "Auntie Mama", who was actually her Uncle Kevin in disguise to give her a female role model.
"Grandma Got Run Over by a Reindeer" by Elmo & Patsy plays at Peter's imagined funeral.
Quagmire and Cleveland can be seen at Peter's funeral, even though they both fell in with him at the falls.
When Quagmire grabs onto Joe's legs, he says it's the first time he's actually touched him, but Quagmire has even had sex with Joe in "Halloween on Spooner Street".
The Whirlpool Aero Car is shown to be an enclosed gondola, while in reality it is actually an open-air gondola. [1] The attraction is also not wheelchair accessible.