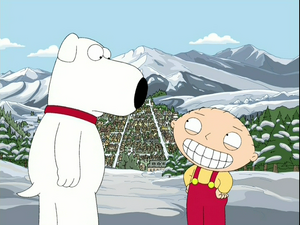 Jack's Joke Shop is a joke shop that, according to Family Guy, was located in South Attleboro, Massachusetts. In reality, the store was located on Tremont Street in Boston. Due to economic downturn, it closed in 2008. The store's motto is "If it ain't funny, it ain't worth Jack!"
It was mentioned in "Lethal Weapons", where apparently Stewie Griffin bought and promoted their novelty items including a spinning bowtie, Devil's horns, a trident, a plastic Cigar, and a headband simulating an arrow pierced through the skull
He also promotes the shop in "Road to Rupert", wearing a pair of chattering gag teeth.
Ad blocker interference detected!
Wikia is a free-to-use site that makes money from advertising. We have a modified experience for viewers using ad blockers

Wikia is not accessible if you've made further modifications. Remove the custom ad blocker rule(s) and the page will load as expected.