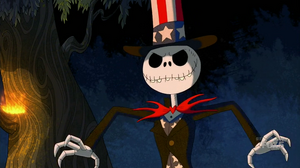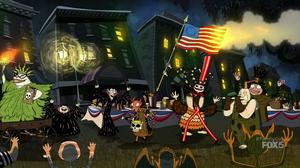 Jack Skellington is a fictional character and the protagonist of The Nightmare Before Christmas.
When Peter declares that his sister Karen Griffin is ruining Thanksgiving the same way that director Tim Burton ruined the 4th of July, a cutaway shows the residents of Halloween Town celebrating the 4th in Happy Fourth of July Jack Skellington in "Peter's Sister".
As they celebrate, Jack appears and notes that fat girls with black hair have tattoos of him.
Ad blocker interference detected!
Wikia is a free-to-use site that makes money from advertising. We have a modified experience for viewers using ad blockers

Wikia is not accessible if you've made further modifications. Remove the custom ad blocker rule(s) and the page will load as expected.