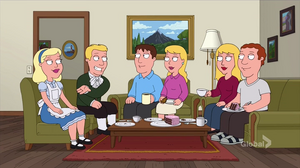 Jack and Jill is a traditional English nursery rhyme. The first and most commonly repeated verse is:
Jack and Jill went up the hill
To fetch a pail of water.
Jack fell down and broke his crown,
And Jill came tumbling after.
In "Stewie Is Enceinte", Stewie feels like he and Brian are growing apart after years of being inseparable, like Jack and Jill. In a cutaway Jack and Jill are shown hosting friends, while being passive-aggressive towards one another, telling embarrassing stories in relation to their fall.
Jill is voiced by Alex Borstein. Jack is voiced by John Viener.
Ad blocker interference detected!
Wikia is a free-to-use site that makes money from advertising. We have a modified experience for viewers using ad blockers

Wikia is not accessible if you've made further modifications. Remove the custom ad blocker rule(s) and the page will load as expected.