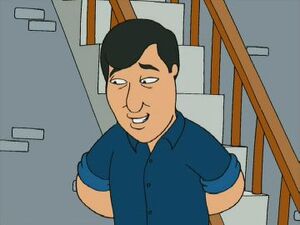 Jackie Chan (born Chan Kong-sang, 陳港生; April 7, 1954) is a Hong Kong actor, action choreographer, filmmaker, comedian, director, producer, martial artist, screenwriter, entrepreneur, singer and stunt performer.
He first appears in "There's Something About Paulie" in a parody of the TV show, Taxi, Louie the taxi service director gives him a job but Chan kills him by snapping his neck.
He also appears in "Breaking Out is Hard to Do". Peter Griffin thinks everyone in Asiantown is Chan, until the real Chan shows up, who recognizes Meg as Frankie Muniz, and mistakes Chris and Peter for Ethan Hawk.