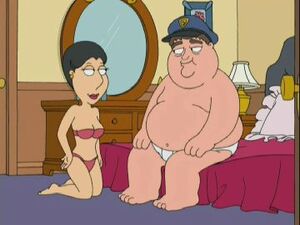 Jackie Gleason (February 26, 1916 – June 24, 1987) was an American comedian, actor and musician. He was known for his brash visual and verbal comedy style, especially by his character Ralph Kramden on The Honeymooners, a situation-comedy television series. His most noted film roles were as Minnesota Fats in the drama film The Hustler (1961) starring Paul Newman, and as Buford T. Justice in the Smokey and the Bandit movie series.
Gleason's Ralph Kramden harasses Indiana Jones in "When You Wish Upon a Weinstein" for taking so long to take an idol safely.
In an edited Honeymooners episode seen in "PTV", Kramden encourages viewers to purchase American cars to stimulate the economy. Another Honeymooners episode is seen in "North by North Quahog".
In "The Fat Guy Strangler", Patrick Pewterschmidt reveals he walked in on his mother, Barbara, having an affair with Gleason. This traumatized him so much that he ended up in an insane asylum because he freaks out when fat men repeat "POW! Right in the kisser!", which was one of Gleason's catch phrases, even going as far as killing the man who does.
Peter's sudden reaction at the end of his long speech with Quagmire in "Quagmire and Meg" is a homage to Jackie Gleason.
He is voiced by Seth MacFarlane.