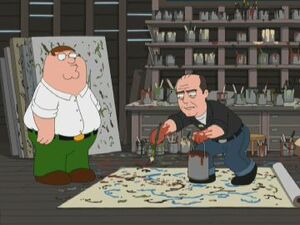 Paul Jackson Pollock (January 28, 1912 – August 11, 1956) was an influential American painter and a major figure in the abstract expressionist movement. During his lifetime, Pollock enjoyed considerable fame and notoriety. He was regarded as a mostly reclusive artist. He had a volatile personality and struggled with alcoholism all of his life. In 1945, he married the artist Lee Krasner who became an important influence on his career and on his legacy. Pollock's technique of pouring and dripping paint is thought to be one of the origins of the term action painting. With this technique, Pollock was able to achieve a more immediate means of creating art, the paint now literally flowing from his chosen tool onto the canvas. By defying the convention of painting on an upright surface, he added a new dimension, literally, by being able to view and apply paint to his canvases from all directions.
Stewie Griffin compares his father Peter's underwear to a Jackson Pollock painting in "Fast Times at Buddy Cianci Jr. High".
Pollock appears in "Ocean's Three and a Half" when Peter brags about knowing paint.