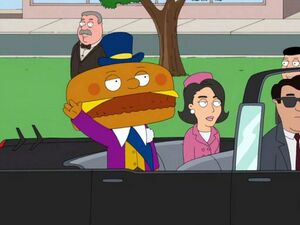 Jacqueline Lee Bouvier Kennedy Onassis (July 28, 1929 – May 19, 1994) was the wife of the 35th President of the United States, John F. Kennedy, and served as First Lady during his presidency from 1961 until his assassination in 1963. She was later married to Greek shipping magnate Aristotle Onassis from 1968 until his death in 1975. For the final two decades of her life, she had a successful career as a book editor. She is remembered for her contributions to the arts and historic preservation, her style and elegance.
As First Lady of Petoria, Lois gives Tricia Takanawa a tour of the Griffin Home, parodying the tour First Lady Jackie Kennedy gave CBS newscaster Charles Collingwood of the White House in 1962. Lois is dressed in a pink suit similar to the one Jacqueline Kennedy wore the day John F. Kennedy died.
In "Road to the Multiverse", Stewie and Brian Griffin arrive in a universe where Frank Sinatra never existed. Because Sinatra had not been born, he could not influence the election of John F. Kennedy. Bouvier ends up falling in love with and marrying Mayor McCheese, who becomes President of the United States. At that point, she takes his name, becoming Jacqueline McCheese. When her husband is assassinated by Lee Harvey Oswald, she reacts in shock, then eating his head.
As part of his attempt to get back into the Barrington Country Club in "No Country Club for Old Men", Carter Pewterschmidt claims to have gotten to sleep with Jacqueline before she was "defiled by that hairy olive-eater," referring to Aristotle Onassis.