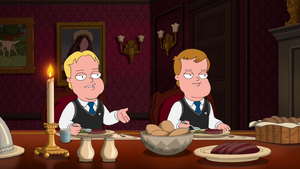 Jaidan and Aidan are Stewie's new older brothers in an upper-crust British family in which Stewie finds himself born into when he stops his own conception in "Chap Stewie".
His brothers are less than welcoming to the new arrival, insulting him as Stewie finds himself unable to return a decent riposte.
Aidan is voiced by Isaac Hempstead-Wright. Jaiden is voiced by Aaron Taylor-Johnson.
Ad blocker interference detected!
Wikia is a free-to-use site that makes money from advertising. We have a modified experience for viewers using ad blockers

Wikia is not accessible if you've made further modifications. Remove the custom ad blocker rule(s) and the page will load as expected.