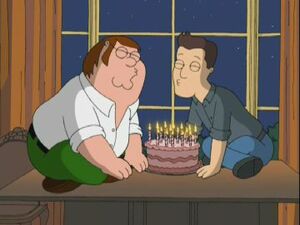 Jake Ryan is often a name used to describe a male character or person representing "The Perfect Boyfriend". The first usage of this, is the film Sixteen Candles, played by Michael Schoeffling.
In "PTV", Peter Griffin is sexually assaulted by Ryan at his birthday party in a parody of Jake's "nice guy" image.
Schoeffling appeared in the role on a poster for the film which hangs in the Griffin living room as of the year 2007A in "Meet the Quagmires".