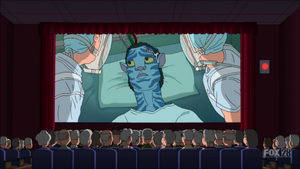 Jake Sully is the main protagonist of Avatar. He is a paralyzed renegade Marine veteran who defects to the Na'vi race.
In "Grumpy Old Man", the Griffins and the Pewterschmidts are shown a theater at the Oceanside Retirement Community where the film can be stopped by pressing a button on the seat so the patrons can ask questions. While watching Avatar, one of the residents stops the film to ask why Jake Sully is blue and asks if it because he's cold.
Ad blocker interference detected!
Wikia is a free-to-use site that makes money from advertising. We have a modified experience for viewers using ad blockers

Wikia is not accessible if you've made further modifications. Remove the custom ad blocker rule(s) and the page will load as expected.