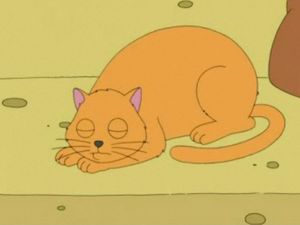 James was the cat of Glenn Quagmire. In "420", Quagmire discovered him living under his house and took him in. Quagmire became preoccupied with James, neglecting his friends. At one point, he even uses James to talk to Cleveland when he tries to borrow his lawnmower. Peter accidentally kills James while attempting to shave him as a prank, believing James had 9 lives. At the end of the episode, when Quagmire offer a cash reward for finding James, Peter takes the money and casually admits he was the one who killed his cat.
Ad blocker interference detected!
Wikia is a free-to-use site that makes money from advertising. We have a modified experience for viewers using ad blockers

Wikia is not accessible if you've made further modifications. Remove the custom ad blocker rule(s) and the page will load as expected.