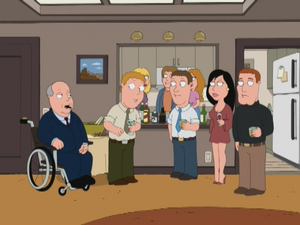 James Scott "Jim" Brady (August 29, 1940 - August 4, 2014) was the former Assistant to the President and White House Press Secretary under U.S. President Ronald Reagan. After nearly being killed and becoming permanently disabled as a result of an assassination attempt on Reagan in 1981 by John Hinckley, Jr., Brady became an ardent supporter of gun control.
In "Back to the Woods", a person attempts to tell a joke about shooting into a crowd until Brady shows up.
Ad blocker interference detected!
Wikia is a free-to-use site that makes money from advertising. We have a modified experience for viewers using ad blockers

Wikia is not accessible if you've made further modifications. Remove the custom ad blocker rule(s) and the page will load as expected.