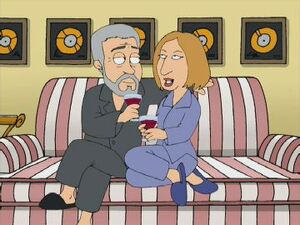 James Brolin (born is July 18, 1940) an American television, film, character actor, producer, and director, best known for his roles in soap operas, movies, sitcoms, and television. He is the father of actor Josh Brolin and husband of singer/actress, Barbra Streisand.
They appear together in "Wasted Talent", where they cuddle, and in "Stewie Kills Lois", Brolin asks his wife for a lot of money, which she shoots out of her nose.
Ad blocker interference detected!
Wikia is a free-to-use site that makes money from advertising. We have a modified experience for viewers using ad blockers

Wikia is not accessible if you've made further modifications. Remove the custom ad blocker rule(s) and the page will load as expected.