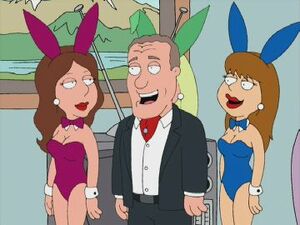 James E. Caan (born March 26, 1940) is an American actor. He is best known for his role of Santino "Sonny" Corleone in 1972's The Godfather, Paul Sheldon in Stephen King's Misery, and "Big" Ed Deline in Las Vegas.
His role as Paul Sheldon in Misery is fulfilled by Brian Griffin for the second segment of "Three Kings".
In "He's Too Sexy for His Fat", he appears at one of Stewie Griffin's sexy parties. While there, he punches a girl, dressed as a Playboy Bunny, in the face, a reference to his history of playing violent characters and his 1980 domestic violence incident.
Caan made a cameo appearance as himself in Something, Something, Something, Dark Side. He is an ally of the Empire.
Ad blocker interference detected!
Wikia is a free-to-use site that makes money from advertising. We have a modified experience for viewers using ad blockers

Wikia is not accessible if you've made further modifications. Remove the custom ad blocker rule(s) and the page will load as expected.